Aloha Valued Subscriber
Market Update
A possible interstellar object has been spotted by the Haleakala Pan-STARRS telescope.  What appears to be either an asteroid or a comet was observed by the University of Hawaii telescope atop Haleakala entering the solar system during its nightly search.  If astronomers confirm, this will be the first interstellar object observed from somewhere else in our galaxy.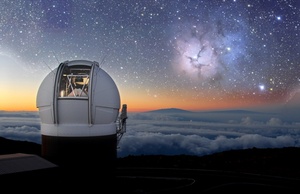 The unidentified object is a quarter mile in diameter and astronomers say it is moving remarkably fast.  Astronomers around the world are aiming telescopes both on Earth and in space at the object in hopes to learn more about its origin and composition. 

The possible interstellar object was first sighted on October 19th by Rob Weryk who determined that based on the objects speed and trajectory it was coming from another galaxy.  The Minor Planet Center in Cambridge, Massachusetts has given the object the designation A/2017. 
Have a Spooktacular Halloween! 
Lindsey for The Smith Team

Ken, Melissa, Greg and Lindsey

P.S. -   The Made on Maui Festival will be taking place this weekend, Friday and Saturday November 3rd and 4th, 2017 at the Maui Arts and Cultural Center.  It is a great place to get your holiday shopping started and support local businesses.  

P.S.S - New stunning Maui Meadows home at 807 Kupulau Place. 4 bed, 3 bath main house with a 700 sq ft ohana and a pool.  There is also a roof top viewing deck for enjoying the phenomenal ocean views.  Listing will be live shortly!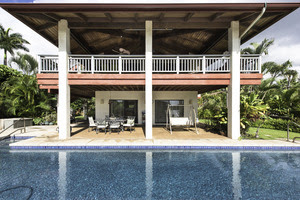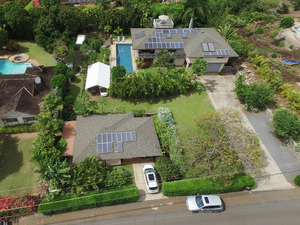 Melissa Smith R (B), Ken Smith R (S), Gregory Smith R (B), Lindsey Taylor R (S)
Follow Us



|   | | | | |
| --- | --- | --- | --- | --- |
| | | | | -3 |
| | | | | -15 |
| | | | |  -2 |
| | | | | -20 |
1. The numbers in parentheses reflect the number of listings over $1M
2. Sold listings are for the previous 12 months.
3. Change is the increase or decrease in number of active listings from the previous week.

3091 Manu Hope Place
Wailea 
$1.449M (FS)

Ideally situated on the green belt in the gated Wailea Kai community, you will enjoy the privacy, breezes and short walk to the best beaches on Maui-Keawakapu. Relax by your pool or just enjoy easy living in this stucco finished 3 bed, 2 bath single level home.


121 Ikena Kai Place
Kula
$2.68M (FS) 

New, Modern, Tropical, Organic, best portrays this refreshingly unique and contemporary farm home, designed by Oahu's renowned Architect Jim Schmit. Located in Lower Kula's gated neighborhood Omaopio Ridge, offering perfect weather, gorgeous sweeping bi-coastal Ocean views and stunning Haleakala vistas. 



 
16 Malukai Lane
Wailea
$7.345M (FS)

"Pu'u Hale", Residence Two, enjoys lovely ocean, outer island and West Maui Mountain views. Upon crossing the stream via the quartzite tiled bridge you enter through two mahogany and copper gates to find this beautiful stucco and white coral clad lushly landscaped 4 bed, 5 bath residence situated upon .46 acres. 



 

 

529 Kaikoo Place
Wailuku
$350K (FS)

Located one lot from the ocean in Paukukalo with access to Big Lefts right out of your front door. The upper level of the house consists of two bedrooms and two bathrooms with a large covered lanai. The lower level is finished basement per the County of Maui real property tax records and has a flexible floor plan.



 

 

 


537 West Papa Avenue
Kahului
$505K (FS)

This 2 bed, 1 bath home sits on just over 5,000 sq ft of land with plenty of room for gardening and parking. 






 

 

 

 

 


1614 Mill Street
Wailuku
$575K (FS)

If you want a large lot, and comfortable living in the true planation style, this is the 3 bed, 2 bath home for you. You can build a cottage for your family while your live in the extremely well kept home. Upgraded electrical, plumbing, roofing, flooring, cabinets, solar water heater and PV system are just some of the features of this home.



 

159 Auhana
Kihei
​$698K (FS)

South Kihei, within walking distance of Charley Young's Beach and Park, restaurants, shopping and supermarket. This home has two full master suites, beautiful vaulted ceilings and great natural light.



 

587 Kaleo Place
Maui Meadows 


$779K (FS) 

Great opportunity to build a main dwelling with ocean and mountain views. Approximately half an acre, this large corner lot won't last long. Live in the existing 2 bed, 2 bath cottage while building your dream home, or take advantage of rental income in this desirable Maui Meadows location.



 

661 Kauhikoa Road
Haiku
$779K (FS) 

Privacy and convenience in the dryer side of Haiku with great ocean view. Just three minutes to Haiku town this property is bordered by large parcels and a forested gulch with only one house in sight. Recently remodeled bathroom and kitchen with granite counter tops, gas range, new cabinets, vinyl windows and stainless steel appliances.



 

Kaanapali Alii #2-404
Kaanapali
​$1.495M (FS)

Fully remodeled 1 bed, 2 bath garden view unit with designer furnishings that give the unit a trendy modern beach feel. Beautiful terracotta glazed tiled floors throughout with plantation style cabinets and cool green fossil granite counter tops.




 

Wailea Ekahi #22C
Wailea
​$1.67M (FS)

Wonderfully positioned 2 bed, 2 bath, ground floor, Wailea Ekahi unit, very close to the beach, the main pool, and the beachfront pavilion. There is not a single stair from the parking lot, throughout the unit, or out onto the lanai. This very private lower-village unit offers some ocean views from the dining area, living area, and one bedroom.



 

Makena Surf #F304
Makena


$2.49M (FS) 

This 2 bed, 2 bath unit combines luxury with beautiful upgrades throughout and a premiere oceanfront location. This beautiful condo sits above the water but is just steps away from the sandy beach.





 
 
Vacation Condos Under $1M

Kihei Garden Estates #G-204
Kihei 
$424K (FS) 

This private upstairs 2 bed, 2 bath condo allows for short term rentals and is situated within this peaceful Central Kihei complex. This condo has a recently remodeled upstairs bathroom.

 

 


Maui Kamaole #F-210
Kihei
$589K (FS)

This 2 bed, 2 bath corner unit allows for more sunlight and less neighbors while enjoying the close proximity of the 2 awesome free form pools, tennis and BBQ areas on your vacation.


Punahoa Beach Apts #305
Kihei
$839K (FS)

This 1 bed, 1 bath corner unit boasts views of surfing beach "The Cove" Kam Beach Park, Whales breaching, and amazing sunsets. This turnkey condo is ready to rent or occupy full time.



 

This beautiful upstairs 2 bed, 2 bath home in the prestigious Palms at Wailea, enjoys a wide open garden view with a peek of the ocean from the lanai. Nicely updated kitchen cabinetry, tile floors, three split AC units and sold with furnishings.

 

Residential Condos

Kihei Villages #2-203
Kihei
$254K (FS)

This 2 bed, 1.5 bath condo is in original condition and is ready for the right buyer, so bring your tools or your contractor, your creative ideas and add your own personal touches to this blank slate. 





 

 


Napilihau Villages #6-203
Napili
$350K (FS)

Nice 2 bed, 1 bath second floor unit with wood laminate and tile floors. Newer stove and refrigerator and shudders on all windows. There are 5 new windows on order that Seller has paid for and will have installed when they are in.

 

 


Hokulani Golf Villas #137
Kihei


$1.049M (FS)

Single Level, ocean view 2 bed, 2 bath, office home with new central A/C. The home looks over a 3 acre ocean view grassy park on the knoll above the Maui Nui Golf Club.





 

Kai Malu #75-B 
Wailea 
$1.85M (FS)

This spectacular 3 bed, 2.5 bath unit boasts panoramic ocean, outer island and Haleakala views. This exquisite home is being sold complete with designer furnishings.





 

Vacant Land

1501 Halama Street
Kihei
$625K (FS) 

Build your dream house on this rare Halama Street parcel located in a prime beach community.






 

45 Waiohuli Street
Kihei 


$725K (FS) 

Corner of Halama Street. 

This new three lot subdivision is located across the street from the beach access that enters the sandy beach section of Halama Street. Grab your paddleboards or canoe and launch only steps away from your front door.