Aloha
Sharing my Recent Travel Experience
 
I just returned from a trip to Mazatlán, Mexico and wanted to share with you my travel experience coming back to Maui.  My flight route coming back to Maui was from Mazatlán to Los Angeles to Maui.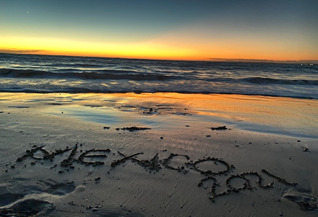 Picture of the Sunset in front of the Pueblo
Bonito Resort, Emerald Bay
Traveling internationally back to California, I needed to take a COVID-19 test within 3 days of departing Mazatlán.  Luckily, my hotel in Mazatlán had free on-site COVID-19 testing and I made an appointment prior to my arrival.  The person administering the test only swabbed one nostril and it was very quick.  I got my negative result the next day.  You also have to fill out a health questionnaire travel form within 12 hours of entering and departing Mexico from LAX to get a QR code that will be scanned at the airport in Mazatlán.
 
Once I arrived at Los Angeles airport (LAX), I needed to go to the on-site COVID testing center located by Terminal 6 of LAX for a rapid PCR test that takes 3 to 5 hours for the results.  The test costs $125.  Make sure to book an appointment in advance.  I did see a couple walk-ins who couldn't get an appointment till the next morning.  Why did I have to take a 2nd COVID-19 test?  This is because Hawaii will only recognize COVID-19 test results from a trusted Hawaii Travel partner.  For this testing experience, the person administering the test took a swab deep into both nostrils for 5 seconds each.  It was uncomfortable and I teared up, but it's better than having to quarantine back home on Maui.  The results arrived to my email 4 hours later and I uploaded it to my Safe Travels profile prior to my departure back to Maui.  Once you upload the test, you get a QR code.  A travel health questionnaire is also required.
 
I booked my flight back to Maui from Los Angeles for the next morning in case I didn't get my results on time.  If you do not get your negative COVID-19 results prior to your departure to Maui, I highly recommend postponing your flight.  Definitely make sure to upload your results prior to your flight and get your QR code.
 
I flew on Hawaiian Airlines coming back to Maui from Los Angeles and I showed my QR code to the person at the Hawaiian Airlines check in counter at LAX so that I could get a bracelet for my flight home.  This is a huge tip for once I got off the plane on Maui, I was able to bypass the long line of passengers that were waiting to get their QR codes scanned so they don't have to quarantine. 
 
I headed down the escalator towards baggage claim and then was led to an exterior tent area for post COVID-19 testing.  Effective May 4, 2021, passengers arriving specifically to Maui from outside the state need to take a post COVID-19 test that is free of charge.  The good news is that I am vaccinated so I got a red ticket to leave that area after I showed a hard copy of my vaccination card to bypass the post COVID-19 testing.  I was then able to finally get my luggage from baggage claim.  One of my friends that I traveled with is not vaccinated and did have to self-administer a COVID-19 test.  She only had a short wait for the results.
 
Here are some great links to review for traveling internationally and to Hawaii:
 
https://www.alaskaair.com/content/advisories/travel-advisories?lid=vanity-advisory
 
https://www.gohawaii.com/travel-requirements
 
Just make sure that you read the travel requirements in advance before you go on your vacation. 

Have a great summer!

Mahalo Nui Loa,

Ken Smith R(S), Melissa Smith R(B), and Gregory P Smith R(B)

The Smith Team

Market Watch
|   | | | | |
| --- | --- | --- | --- | --- |
| | | | | +5 |
| | | | | -28 |
| | | | | 0 |
| | | | | -23 |
1. The numbers in parentheses reflect the number of listings over $1M
2. Sold listings are for the previous 12 months.
3. Change is the increase or decrease in number of active listings from the previous week.
 
4 bedroom, 3 bath contemporary home located in Sandhills Estates gated community, with a 3 car garage, enter into a beautiful high ceilings in living room, tile floors on the first level and hardwood floors on the upper level.One bedroom and one bathroom on the first floor, enclosed washer and dryer, granite counter top, Master bedroom on the second floor.

 


79 Kahana Ridge Drive
Kahana
$1.45M (FS)

Imagine waking up to the sound of tropical birds singing while the sun rises over the majestic West Maui Mountains casting its first light on the Pacific Ocean. You open your eyes and look out your window to see Moloka'i looking perfectly clear as the morning sun brings its sloping hills to life. 

 

 

 


20 Waonahale Place
Haiku
$1.495M (FS)

Situated in tropical Haiku, on 2-acres of land, this large house with detached cottage offers privacy, multiple views of the ocean and mountain, abundant natural light, good airflow, ample covered outdoor spaces and plenty of parking.


 

 


355 Kaluanui Road
Makawao
$1.895M (FS)

This property brings to life one of natures greatest gifts, a waterfall in full view from your home. The rambling 2 bedroom 2 bath home, rests uphill from the impressive slate wall that forms a natural staircase for the cascading water. The homes design allows nature to be enjoyed to its fullest, with large windows and high vaulted ceilings throughout.

 


 17 Puuwai Place
Kihei
$2.198M (FS)

This 5-bedroom, 4 bath home offers the absolute best for family fun and entertaining. The living room lanai offers outstanding ocean and mountain views. The wrap-around deck to the Master bedroom lets you awake to stunning blue waters and a view of Molokini. 


 

 176 Awaiku Street
Launiupoko


$4.895M (FS)

New luxury home with stunning ocean and mountain views, situated on over 1 acre in Launiupoko, one of West Maui's most sought-after and beloved neighborhoods. This single-level home will be meticulously crafted by one of Maui's most respected builders with the finest quality finishes and the latest in Hawaiian contemporary design. 


75 Opalipali Place
Kula


$5.5M (FS)

This home is flush with high quality and sought after features that are nearly impossible to recreate. From the extensive use of Koa and Mango woods, Venetian plaster, Ipe decking and window trim, to the impressive Oheo post supports surrounding the home. 


 
156 Kaikai Street
Waikapu
$729K (FS)

This centrally located single-story 3 bed/2 bath home sits in the heart of the highly sought after Waikapu Gardens. Floor plan includes a wide entryway leading to an open concept great room with high vaulted ceilings; an open space for living, dining, and a kitchen with an island. Newer stainless steel kitchen appliances throughout.

 

Pride of ownership is evident with this clean, well maintained property. With updates such as fresh interior paint and new carpet in May 2021, this home is move-in ready. In the main house, enjoy the convenience of entertaining with kitchen, half bath, living and recreation rooms located downstairs.

 

 

15-W Makaukau Loop
Waikapu
$889K (FS)

Enter through the generous driveway and make your way to main living area on the 2nd floor, where expansive views of the ocean & Haleakala greet you from the kitchen & living room/dining area; and views of the West Maui Mountains, from the master bedroom and first bedroom. 

 


1076 Kehau Place
Makawao
$989K (FS)

This 2-story home with 3 bedrooms, 3 recently remodeled and beautiful bathrooms, has been painted inside and out. The home has a 24 panel NET METERING Photovoltaic System and an extra-large on-demand gas water heater. There are new or nearly new appliances in the kitchen with a master chef gas range. 

 
Menehune Shores 403  
Kihei


$1.185M (FS)

This 2 Bedroom, 2 Full Bath beautifully remodeled condo is a must see. Offered fully furnished. This oceanfront condo complex is located on the south shore on the Island of Maui. This condo allows for vacation rentals. Unit 403 has a bright contemporary design that is so inviting, uplifting and relaxing.

 The open living and dining room area opens up to a lanai (balcony) with lovely views.  

 


Papakea Resort A-402
Honokawai


$1.625M (FS)

It is a truly unique, one-of-a-kind two-bedroom direct to oceantfront loft-style unit at Papakea Resort. Sit back and relax in the living room or on the lanai where you can hear the surf, watch the colorful sunsets, see the whales breach and experience sea turtles swimming by. This floor-plan is unique to Papakea.

Absolutely Outstanding Oceanfront 2nd Floor Condominium on world famous Napili Bay, West Maui. Enjoy year round Sunsets, Ocean views and amongst the best beaches with all the luxuries of the Napili Kai Beach Resort.


 




Wailea Point 802




Wailea




$6.998M (FS)

This home is perfect for large gatherings & entertaining. Using the finest materials, each unique room offers views & vistas that delight: indoor & outdoor dining, a granite-countertop kitchen with quality appliances, coffered lighting, a sculptural wood staircase, wet bar, office, media room, & two custom garage units.


 
  Vacation Condos Under $1M
Papakea Resort H-107 Honokawai

$615K (FS)

This 1 bed 1 bath ground floor "corner" unit features a full kitchen, tiled flooring, floor to ceiling mirrors in the living area, and a washer and dryer for your convenience. This unit is currently in the vacation rental program is furnished and turn-key ready. The immaculate grounds and Koi ponds are steps from your spacious lanai.

 

Kamaole Sand 7106 Kihei

$638K (FS)

A major remodel includes opening up the kitchen space with granite countertops, tile throughout, removal of popcorn ceilings and a more spacious guest bath. Master bedroom includes a king size bed, private bathroom and lockable owners closet. Set away from the master is the living area furnished with a sleeper sofa and an additional bathroom

.

 

Kapalua Golf Villas 15-T2 Kapalua


$785K (FS)

This unit was remodeled to the Kapalua Villas Gold Standard.There are granite counters and rich wood cabinets in the kitchen and bathrooms. Selling ready for vacation rental activity or appointed nicely for immediate move-in. This 1067 square foot townhome has the master suite upstairs and the large living area down.

 


Maui Kamaole 1201
Kihei
$799.9K (FS)

Situated toward the middle of the complex this 2 bedroom, 2 bathroom has split AC and has a peek-a-boo ocean view. This unit also has an extra window as it is an end unit. Only a short distance from South Maui's best beaches makes this one of the desired locations at Maui Kamaole

.

 

 
Wailea Palms 2703 Wailea


$1.25M (FS)

The incredible tile floors take you to a large 476 sf lanai that has access from the living room and primary bedroom where you can view the ocean, even from the bedroom you have Fleetwood Sliding doors and an ocean view. Both bathrooms are remodeled.

 

Na Hale O Makena A-102  Makena

$2.395M (FS)

This tropically vibrant, low density area is tucked away, yet minutes from world class beaches, dive spots, water sports, golfing, restaurants, resorts, shopping and more. 
Residential Condos Under $1M
Keonekai Villages 22-203 

Kihei

$465K (FS)

Cozy upstairs location on the Haleakala side of highly desirable Keonekai Villages, with a quiet/low-key vibe, zero parking lot traffic and private lanai for your leisure. 

 

Flats at Kamalani 3802 Kihei

$480K (FS)

This ground floor condo offers an ideal location far away from the highway noise. Built in 2017, this 2 bedroom 2 bath unit offers a well thought out 804 sq. ft of interior living space. This unit has been upgraded to offer Luxury Vinyl plank floor throughout, A/C units in each room, Stainless steel appliances, and solid surface countertops.

 

Flats at Kamalani 1408
Kihei

Your 3 bedroom condo is complete with an enjoyable view of the West maui Mountains. Quartz counters, newer appliances, and built in 2019 make this wonderful condo home perfect for those with attention to details. 

Kamani at Kehalani 92

Wailuku

A Hookipa floor plan is finally available just for you! A beautiful duplex style home located on a prime corner lot. This Hookipa Floor Plan consists of 3 bedroom, 2 bathroom upstairs interior living space, a 2-car epoxy garage downstairs as well as fenced side and rear yard

.
Papohaku 

Lot 73 Molokai


$225K (FS)

This 5.2 acre, totally private, gently sloped oceanview lot is within walking distance of beautiful, deserted, white sand beaches, including stunning 3-mile long Papohaku Beach. You'll experience amazing year-round sunset & Diamond Head views, whales breaching in season, and the wonderful feeling of Old Hawaii.